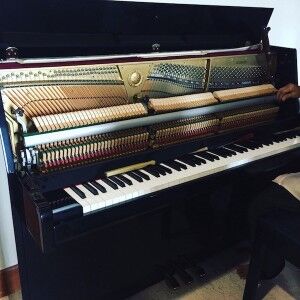 What is Piano Tuning?
Tuning is an adjustment process to the string's tension such that the instrument is in tune. The natural tone of every piano is different, and thus this process has to be adapted to every one of them. This is why, we believe that every piano has their unique 'voice', and only the most stringent process of tuning will bring out the beauty in them!
Why is Piano Tuning important?
LIFESPAN & QUALITY OF PIANO
Tuning is essential in ensuring the lifespan and quality of your piano. The strings tend to stretch over time as they endure tremendous tension in their usage. As a result, the tune will change over time! Tuning is thus a preventive measure against the loss of standard pitch for your piano, as it prevents serious damage to the strings and interior parts. When your piano has not been tuned for a long period of time, you may risk it being damaged of its standard pitch. Consequently, it may be costly to carry out corrective treatments, or the damage could even be irreparable.
PIANO PRACTISING EXPERIENCE
A well-tuned piano generally gives you a better practising experience. This is especially crucial if you are a young or emerging pianist! It is true that when you are practising, you are listening and accustoming yourself to how a tune should sound like. In the long-term, the tune will shape your impression of how a specific note sounds. Every moment spent practising should also be a chance to sharpen your aural abilities. As the saying goes, "listening lies at the heart of all good music-making."
Your regularly tuned piano will be in a better condition. As a result, your instrument will definitely fetch a higher price should you wish to sell it in the future!
Piano Tuning Cost
Upright Piano – $80/session
Grand Piano – $150/session
Pitch Raise Cost
Upright Piano – $30
Grand Piano – $80
Each tuning session will take approximately 1 hour.
Feel free to let our tuner know if you need us to check any particular parts of the piano.
We will contact you via your mobile number to confirm the tuning date and time again.
Upright Piano Tuning
Per Session
Pedal Testing

Heater Inspection

Carpet Beetle Inspection

Standard A440 Tuning (Stuttgart Pitch)
Grand Piano Tuning
Per Session
Pedal Testing

Heater Inspection

Carpet Beetle Inspection

Standard A440 Tuning (Stuttgart Pitch)
Raising Pitch
Session Add-On
Upright Piano

Add On for Standard Tuning

If Piano is way out of Tune/ New Piano (Only happens if you do not regularly tune your Piano)
Raising Pitch
Session Add-On
Grand Piano

Add On for Standard Tuning

If Piano is way out of Tune/ New Piano (Only happens if you do not regularly tune your Piano)