Rental Rates for Yamaha and Kawai pianos
Rent a high-quality piano from Piano DoReMi to begin your musical adventure.
Piano lessons tend to be more effective when you have a piano at home for practice, but brand new pianos are such a huge investment.
Piano DoReMi can help you practise with our piano rentals if you're not ready to commit to one yet.
Read more to find a rental solution to suit your needs.
Loan a Piano with PianoDoReMi
PianoDoReMi wants to ease and smoothen your piano practice by offering premium quality Yamaha and Kawai pianos for rent.
Our Rent-To-Buy Scheme
Our rent-to-buy scheme is highly recommended as a low-risk alternative for upcoming pianists!
For those just starting out on their musical journey, owning one seems like a big commitment, especially when interest seems difficult to sustain.
Our rent-to-buy scheme allows patrons to rent quality pianos for six months to test out if their choice is suitable. Furthermore, clients can switch between Kawai and Yamaha pianos during the rental period under this scheme.
Our Pianos
Specialising in Quality Japanese Pianos, every Kawai and Yamaha piano goes through Piano DoReMi's stringent 89-checklist inspection process.
These pieces are available for sale and rental and adhere to the following requirements:
Made in Japan
Imported by a Japanese service professional within the piano industry for 30-40 years
Clear and visible serial numbers (tampered labels will not be accepted)
Our Attention to Details
Where a good piano allows pianists to express themselves, perfecting the little details is the key to enhancing a pianist's experience.
Piano DoReMi considers every aspect of the piano playing experience, not only for you but also for those around you.
Our pianos come equipped with safety features such as the slow-fall mechanic to prevent inexperienced fingers from getting snapped by the cover.
With all the hours of practising music, a good posture is hard to maintain.
Our adjustable benches can help you say goodbye to backaches!
Piano Rental in Singapore for Your Individual Needs
Expats with temporary residency in Singapore can rent with PianoDoReMi to continue their musical passions without worrying about where to store their instruments.
Upcoming pianists can explore different types of pianos to find their preferred sound without the exorbitant costs.
Let PianoDoReMi equip you with the best piano for your musical needs.
Piano Rental in Singapore for Your Event Needs
On top of personal use, we are also experienced in rental for event usage. We are able to advise you based on your special requirements and also adhere to the strict delivery timing and setup. With our help, you can rest assured that the event will happen smoothly. Enquire to find out our rates today!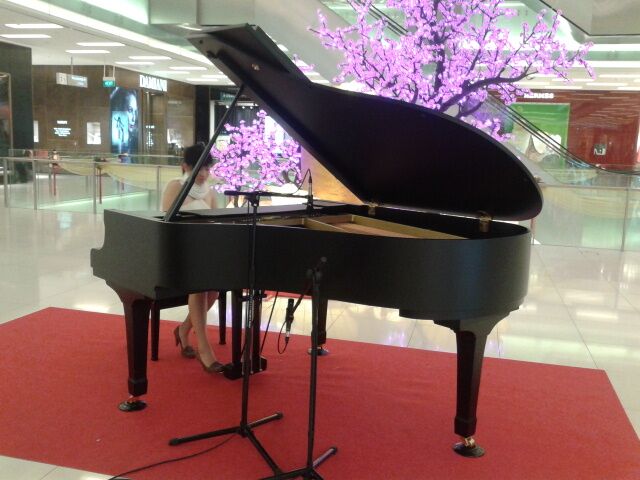 Your Piano Solutions with PianoDoReMi
We offer both upright and the grand piano, with delivery rates varying according to delivery locations.